MSG FEEDER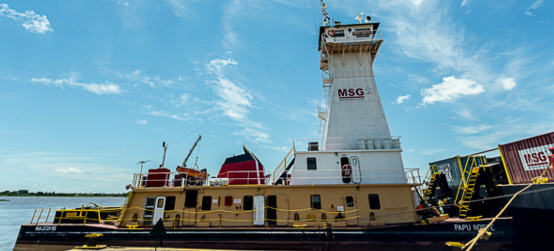 MSG provides an independent feeder waterway service, open to shipping lines and regional customers alike, with a fixed weekly schedule from Asuncion, Paraguay, to Buenos Aires, Argentina and Montevideo, Uruguay, and viceversa, offering a wide range of ports and terminals in between, as Villa Constitución, Formosa, Corrientes, among others, connecting Paraguay through different public and private Terminals at Asunción and Encarnación.
Containers , dry and refrigerated cargo, platforms for machinery, vehicles and heavy equipment on wheels or tank treads, project cargo, unitized loads, are transported with our fleet of ocean vessels and barges, under the supervision of our highly experienced organization and according to international safety regulations.
MSG CONTAINER LINE
We offer regional cargo transport between Mercosur Ports using our own fleet of over 600 containers that include 20´, 40´dry and reefer type, as well as open tops, autoracks and flat racks.